Jaicharan J. Iyengar, MD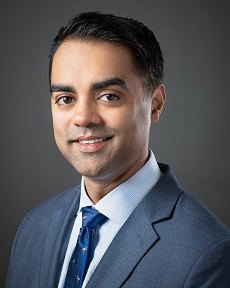 Orthopedic Surgery
Jaicharan J. Iyengar, MD, is a board-certified orthopedic surgeon specializing in shoulder and elbow surgery and sports medicine injuries. He is the founder of the Stockton Shoulder Institute at Alpine Orthopedics.
Dr. Iyengar earned his medical degree from the University of California San Francisco, where he also served his internship and residency. He then completed a prestigious Charles Neer Fellowship in shoulder, elbow, and sports medicine surgery at Columbia University in New York. He is board certified by the American Board of Orthopaedic Surgery (ABOS).
Dedicated to compassionate and comprehensive care, Dr. Iyengar uses the most advanced minimally invasive surgery techniques to enable faster recovery. "I understand the impact an orthopedic injury has on patients' lives. My goal is to help them quickly return to the activities they enjoy," he says.
Beyond his medical office, Dr. Iyengar shares his talent and expertise with the community in a variety of ways. Since 2013, he has been the head team physician for both the Stockton Ports baseball team — a Class-A affiliate of the Oakland A's — and the University of the Pacific Tigers Division I collegiate athletics in Stockton. He is also an assistant professor in the Department of Orthopaedic Surgery at Touro University California College of Osteopathic Medicine and chairman and program director of the orthopedic surgery residency at St. Joseph's Medical Center in Stockton, CA.
The International Association of Orthopaedic Surgeons has named Dr. Iyengar to its Top Doctor list, and he has earned a five-star honor rating from HealthGrades.com for his excellence in clinical care.
A native of Fullerton in Southern California, Dr. Iyengar earned a Bachelor of Arts degree, summa cum laude, in history from UCLA before attending medical school. He is an avid traveler, having visited 30 countries on six continents. He has also participated in orthopedic medical missions in Uganda and South Africa.
Help for shoulder injury, pain, and stiffness
Shoulder problems come in many forms, and Dr. Iyengar is here to accurately diagnose your particular issue and work with you to create a treatment plan that is right for your goals and lifestyle.
Arthritis — Loss of the cartilage that cushions the shoulder joint leads to arthritis. As the cartilage continues to break down, the condition can go from mild discomfort to excruciating, bone-on-bone pain. Treatment ranges from cortisone injections and stretching exercises for early arthritis, through arthroscopic surgery to preserve the joint, to shoulder replacement surgery for advanced cases. Dr. Iyengar is one of only a few surgeons in Northern California who performs computer-navigated GPS shoulder replacement surgery.
Rotator cuff injury/tear — The four rotator cuff muscles that surround each shoulder joint provide strength and range of motion for the shoulder. Rotator cuff injuries often result in inflammation, pain, and shoulder weakness. More than 50 percent of these injuries can be treated by cortisone injections and physical therapy, without the need for surgery. Larger tears in the muscle may require arthroscopic surgery. There are many different types of rotator cuff injuries, so it is important to get a precise diagnosis from a shoulder specialist like Dr. Iyengar.
Shoulder instability — The shoulder joint has the largest range of motion of any joint in the body— which puts it at risk for instability. Issues range from long-term, subtle instability to traumatic instability (such as a dislocated shoulder). In some cases, physical therapy will resolve the instability, however, if it keeps coming back, surgery may be required. Dr. Iyengar uses minimally invasive arthroscopic techniques to repair and stabilize the joint. He also has extensive expertise in advanced reconstruction surgery for the most severe cases.
Frozen shoulder — This condition occurs when the capsule — the thin layer of tissue that surrounds the shoulder — becomes thick, scarred and swollen. As a result, it can be difficult and painful to move or lift the arm. Dr. Iyengar has successfully treated more than 80% of his frozen shoulder patients without surgery, using precisely placed cortisone injections and physical therapy. If surgery becomes necessary, he uses minimally invasive arthroscopy to remove the damaged capsule and restore range of motion to the shoulder.
Shoulder fractures/severe shoulder separation — In the past, the most common treatment for this type of injury was to let it heal on its own — but that was a slow and painful process. Today, shoulder specialists like Dr. Iyengar have options to actively treat and repair shoulder fractures and separation.
Other red flags include:
You cannot sleep well at night.
You cannot lie on your shoulder.
You cannot reach up to put dishes into the cabinet.
You cannot reach over to fasten your seatbelt.
You cannot unfasten your bra behind your back.
You cannot reach up to shampoo or style your hair.
You cannot hold your hands above your head for any length of time.
You are not getting better after non-surgical treatment, such as cortisone treatments or physical therapy.
Things to know about shoulder treatment
There are many rumors, family stories and preconceived notions about medical care for orthopedic issues, including shoulder problems. Here are a few facts to set the record straight:
Depending on your type of insurance, you may not need to see your primary care provider before making an appointment with Dr. Iyengar. If you are not sure, read your insurance policy or call your insurance provider.
You do not need to get an MRI (Magnetic Resonance Imaging) before you see a shoulder specialist. Imaging can be helpful for diagnosis, but the most important first step is to see Dr. Iyengar for an evaluation of your shoulder issues. If necessary, he will order an X-ray or MRI.
This is not your grandfather's shoulder surgery. Technology and expertise in orthopedic surgery have grown enormously over the past decades. Shoulder surgery has an undeserved reputation for being uncomfortable and ineffective — but that is a misconception based on old information.
Shoulder surgery is not instant gratification. It takes time and dedication to your physical therapy routine to fully recover. But if you put in the work and follow other post-surgery instructions, you will appreciate the results!
Why choose Dr. Iyengar and his team?
The advantage of subspecialty care. Dr. Iyengar is an orthopedic subspecialist, which means most of his experience and expertise are in shoulders and elbows. When you focus on only one or two things, you become exceptionally good at those things. Dr. Iyengar is always at the forefront of the newest and best techniques and technologies that increase safety, speed up recovery and produce a great long-term outcome for his patients.
Access to top-quality equipment and facilities. Adventist Health Lodi Memorial has invested in equipment and facilities that enable surgeons like Dr. Iyengar to take advantage of the latest techniques and technology for their patients.
A "one-stop shop" for shoulder care. Dr. Iyengar's patients have access to MRI, physical therapy, injections, and other diagnostic and treatment services right in his office— as well as easy referrals to Adventist Health Lodi Memorial and other outside services, as needed.
Members of the community. Dr. Iyengar lives right here in Lodi, and his team members also live in this community or nearby. We will treat you and your loved ones like the friends and neighbors that you are!
You are covered! We accept a wide range of insurance, and our friendly staff will help to ensure you are getting the most out of your coverage. Our list of insurances accepted includes:
Aetna
AllCare
Anthem Blue Cross
BlueShield PPO (Preferred Provider Organization)
Cigna PPO
Corvel MPN (Managed Provider Network)
Coventry MPN
1st Health
Foundation MC
HealthNet PPO
Health Plan of San Joaquin
HealthSMART/Interplan
Hill Physicians
Humana
Marriot MPN
Medcore – OMNI
Medex MPN
Medicare
Medicare RR
Multiplan
Networks by Design MPN
PacifiCare
Private Healthcare Systems
Preferred Employers MPN
Prime Health MPN
Safeway MPN
San Joaquin MPN
Sutter Gould
Tricare
United Health Care
United States Department of Labor
WellComp MPN
If you do not see your insurance on this list, give us a call. We occasionally add insurance providers, and we will be happy to check for you.
Patient Testimonial
Patient: Libby Brighton
Procedure: Reverse shoulder replacement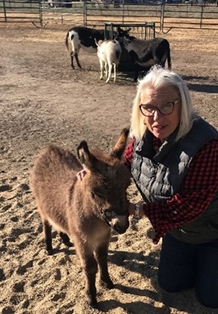 "After this experience, I would tell everybody to skip the repair and go straight to the replacement." When Libby Brighton commits to something, she's all in. "I'm usually a zealot at whatever I do," she says. But over the past two decades, increasing problems with both shoulder joints left her unable to stretch her arms out above shoulder level. Her fitness trainer had to modify her exercises, and she could no longer wash windows at home. Her husband engineered ways for her to continue to assist in their frequent home projects. Libby had undergone corrective surgery on both shoulders, but it wasn't enough. For six years, she hesitated to take the step into joint replacement. "I was scared — unfoundedly — about replacement," she admits. Then she met Dr. Jaicharan Iyengar, who dispelled her fears during their first visit. "He is compassionate and straight to the point," Libby says. "I was taken by his ability to look at images from my previous surgeries and know exactly what I needed. It gave me complete confidence in him." The reverse shoulder replacement on her left shoulder was a great success, and now she's looking forward to Dr. Iyengar replacing her right shoulder. In the meantime, she's working on home design projects for herself and her friends, gardening, and caring for her six Mediterranean miniature donkeys — including her favorite, Zip.
Request an appointment
* Required fields. By providing your details, you agree to receive communications such as annual appointment reminders, health education materials, event information, etc. from Adventist Health. For more information, you can read our legal and privacy policies in the footer below.