Meet People Like You Who Made the Decision for Total Knee Replacement
"With more than 15 patents on knee replacement medical devices and over 140 professional articles, this guy is the real deal."
Dr. James Belogorsky
Dr. James Belogorsky savors life to the fullest. His passion for free-style swimming, running, back packing, downhill and cross-country skiing finally took a hard toll on his knees. So, when he couldn't even make one run down the slopes without pain, he knew it was time to act. And that's when he chose kinematically aligned total knee replacement.
As a physician, he knew what to look for…quality indicators – and when he saw Dr. Howell's low infection and complication rates, his reduced time under anesthesia, shorter time in the hospital and early ambulation they all spoke volumes about his competence. Importantly, he also was impressed by the mandatory Joint Education class held by those providing his care, including the physical and occupational therapists.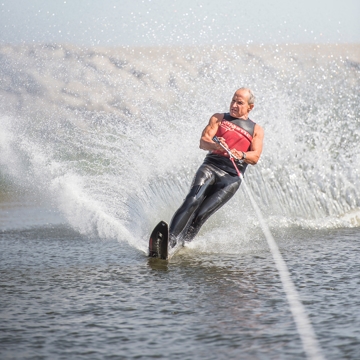 Downtime was minimal and he was back to work in just four weeks, walking 4 miles a day on hospital rounds, waterskiing in six weeks and recovering nicely. In fact, he did so well that he has had his other knee replaced!
"I'm amazed and pleased to live in a time when this kind of knee replacement is possible."
Carol Shanser
With a love for skiing that began when she was 15, Carol knew how to ride the slopes with the best of them. But when her knees wore out, her movement was so limited that she could no longer climb stairs or enjoy riding her bike. And when swelling and pain in her knees was constant and she could no longer stand it, she entrusted the search for a knee replacement surgeon to her physician husband. Weighing all the providers and facts he had, they chose kinematic aligned total knee replacement, and the only thing more amazing than the procedure itself was her complete recovery.
Three days after having her right knee replaced, Carol was walking her dogs and she was skiing that winter. Recovery from her second knee replacement was even faster. Thanks to Dr. Howell's "Pre-hab" program, she was strong and thoroughly prepared for her surgery. In fact, she was walking down stairs the very next day.
She may be well in her 70s, but that hasn't stopped Carol from carving up the slopes!
Find out if you are a candidate for knee replacement!

Take our knee risk quiz today.