Your Team at Adventist Health Lodi Memorial
When choosing a surgeon for your total knee replacement, it's also important to learn more about the team that supports them and you during your stay. You can have confidence knowing that you are in good hands with our physician assistants and that you will have an advocate with our orthopedic care navigator before, during and after your procedure.
Tom has worked closely with Dr. Howell for the past six years and offers patients nearly 25 years-experience in the field of orthopedic medicine. Prior to becoming a physician assistant, he was a registered nurse that focused on surgical services. During this time, he was a traveling nurse and spent time in hospitals around the country, giving him exposure to many different surgeons and operating room styles and flows.
During his time with Dr. Howell, he applied his skills in the development of a comprehensive orthopedic program that created cohesive roles for all the clinical players involved in total knee replacement. As the patient liaison, Tom teaches the pre-operative joint class, provides first assist to Dr. Howell in surgery, and closely follows the patients daily, making rounds and coordinating their care with the nursing team, physical therapy, and case management.
When not busy in the operating room or on the patient floor, Tom and his wife Sunny like to travel internationally. They have visited five of the seven continents and are planning on the last two trips! Tom and Sunny reside in Elk Grove, where Sunny enjoys gardening and Tom builds and flies radio-controlled sailplanes.
Tom's passion and enthusiasm for quality patient care is an asset to the orthopedic program here at Adventist Health Lodi Memorial.
Manpreet Gill is a board-certified physician assistant specializing in orthopedics. As an assistant to Dr. Stephen Howell, she cares for patients who have decided to undergo total knee replacement surgery. Manpreet received her undergraduate degree from California State University, Stanislaus and completed the physician assistant program at University of California, Davis. She is fluent in Hindi and Punjabi.
Originally from Turlock, Manpreet enjoys working in the Central Valley and chose Adventist Health because of the system's quality of patient care, cultural inclusiveness, vision and mission, and innovative surgical methods. She feels a calling to contribute to the community and chose orthopedic surgery so that she could help patients reduce and eliminate pain related to the human musculoskeletal system. Manpreet shares that seeing patients make a recovery and experienced reduced discomfort is very rewarding.
When not in the office or operating room. Outside of work Manpreet enjoys exercising, hiking and exploring food and foreign cultures through travel.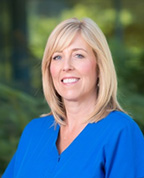 Gail has been a practicing RN for more than 30 years. She received her nursing education at San Joaquin Delta College and began her career at Lodi Memorial, where she has found a work family she loves.
Over her significant nursing career, Gail has worked in many areas, including spending time on the medical surgical unit, cath lab, and providing patients care at home with our home health service. Naturally, Gail was entrusted with more leadership roles at Lodi Memorial, including APU Supervisor and Relief Hospital Supervisor. In 2010, Gail decided she wanted to get back to her roots of providing direct patient care and returned to pre- and post-surgical care.
Gail's philosophy believes in the power of laughter in relieving anxiety and incorporates it often into her outstanding clinical care. She has a special place in her heart for patient education, and as the Orthopedic Nurse Navigator she acts as the patient cheerleader and advocate, providing guidance to orthopedic patients with their plan of care and education, from pre-surgery through discharge.
Find out if you are a candidate for knee replacement!

Take our knee risk quiz today.